OK, today I am going to get some work done. I have quite a list:
1. Follow-up on contacts for publicity on my just-released collection of essays
Confessions Of A Crazy Cat Lady And Other Possibly Demented Meanderings.
2. Get started organizing another chapter on my Myths And Mysteries of Ohio book. I don't have to write anything, I tell myself, just read all the material I collected and do a brief outline. (Sometimes I trick myself into starting to write this way.)
3. Figure out how to download the gazillion photos that I took on a recent research trip onto the cloud thingie. I know it exists because every time I try to text a picture to someone, my phone asks me about it.
BUT FIRST…I have to pay a credit card bill. It's due today so that comes before anything … what if I get busy and forget? And while I'm at it I'll schedule a mortgage and an electric bill payment. Plus there are a couple more bills on the kitchen counter which need to be mailed.
I finish that and think, it's time to start. THEN I notice the two containers of face cream that have been sitting on my desk for a week or so. I've been reduced to scraping their bottoms with a Q-tip, so it's time to reorder; hence, their presence in my office. Of course, I have to go to a different Web site for each. One goes through fine, no problem but, because I had to renew a credit card, the other requires several tries and a call to the customer service helpline.
All right, I tell myself, NOW I will start. But then I think, I haven't even begun to look at mother of the bride dresses! My daughter Amy's wedding is in September near Chicago and that whole event is taking a life of its own so I'd better get cracking. The last few weeks have been incredibly busy with deadlines and traveling but that's no excuse not to be extremely productive today. So I'll just take a minute to type in "discount mother of the bride dresses" on Google ….
THREE HOURS and a dozen emails/texts later, Amy and I are down to two dresses at Nordstrom's. While I initially went for the glitzy discount site, Amy tactfully pointed out that the theme was casual elegance and (pardon the grammar) that don't come cheap. Since she and her fiancé Bret are wholly responsible for the wedding, I am more of a participant than an organizer. Back in the '70s when I got married, my parents paid for and my mother planned my entire wedding. What she wore was of peripheral interest, but since Amy lives in Chicago and I am here in Columbus, it's important that my attire be 100 percent daughter approved.
Amy suggested that I try on the dresses before making a final decision. So I called Nordstrom and while they didn't have the exact styles listed on their Web site they did carry a few from that particular designer. The ever-helpful saleswoman suggested that I stop by and try them on to get a general idea. The dresses are pictured below, so you, gentle reader, can post your vote for the best one by leaving a comment at the end of this blog! And, depending on how many people vote, I will be giving away free autographed copies of Confessions Of A Crazy Cat Lady.  And best not to procrastinate, ha, ha  — votes need to be in by Thursday, May 30 so I can order the dress.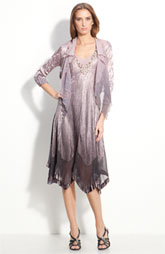 Which looks better for an elegant, casual outdoor early fall wedding — Dress A or Dress B? Cast your vote in the comments section below and you might win a book.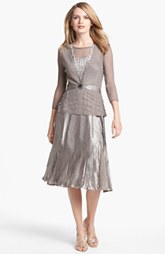 So NOW IT'S 4:15 and I haven't done a darn thing! So guiltily I follow up on a couple of leads for book promotion. But I realize that excuse the expression, I have pissed away an entire day DOING ABSOLUTELY NO WORK. (I did have a doctor's appointment this morning, but still… And the resolution of that particular medical situation also prompted me to call the dentist to schedule another procedure that I'd been putting off.)
BUT WAIT! I've actually gotten something done by writing this blog, mentioning Confessions Of A Crazy Cat Lady, and offering a cool contest. It's a win-win – readers pick the best dress (by May 30) and some free books and possibly publicity are involved, and now that the decision's no longer mine, I can actually get started!
But what if the designer's clothes look awful on me? I'd better get to Nordstrom's before the nice saleslady leaves for the day and they run out of dresses …